Does Google's patent for a hybrid tablet show the future merging of Android and Chrome OS?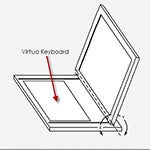 We've written before about Google's prognostication that Android and Chrome OS would eventually merge, and how that may play out. Now a patent filed for in 2010 and recently granted to Google suggests one hardware concept they might be considering to pull it off. The patent covers numerous ways to design a hybrid tablet and notebook that would feature a touch-sensitive virtual keyboard and touchpad on a second screen.

Being a transformer, the device could shift between tablet and notebook mode easily. Sort of like a Microsoft Surface, but without the keyboard/cover piece being removable. But what does that have to do with merging Chrome OS with Android? The most relevant part is this tidbit:



The computing device could also be configured to operate based on one or more platforms (e.g., one or more similar or different platforms) that could include one or more types of hardware, software, firmware, operating systems and runtime libraries.



What other two operating systems do you think Google would want to put on a device? For over two years now Google has been working on hybrid hardware that can also run hybrid software, allowing the same machine to run different firmware operating systems. It's hard not to see a new possibility for merging Google's two OSes here: what if in tablet mode the system worked as an Android tablet for web surfing, media consumption, and gaming, but as you slid it open it instantly shifted to a Chrome OS device for productivity, complete with a virtual keyboard and trackpad on the second display? In that model you would have tablet and productivity device in one, with Google able to hook you up with whichever solution best meets your needs.

We have no direct information that this is what Google has planned, but it does mesh this patent neatly with Google's past statements. We're not sure how great the typing experience will be on a full-size touchscreen keyboard, but people often pound out emails even on their smartphones, so we suppose it doesn't have to compete against physical keyboards as much as it needs to be faster than typing on a phone or a tablet.

What do you think? Would a convertible device like this appeal to you?



source: Patentbolt via 9to5Google