Do you want the Galaxy S IV to have an S Pen? (Poll results)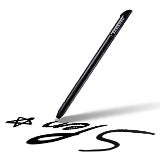 Last week we asked you if you'd like the next Galaxy S phone to have an S Pen of its own. Not surprisingly, it turned out that those who fancy the idea are about as many as those who aren't really into it.
Well, actually, the readers who have answered positively represent the majority with a total of 51.04% of all votes. Not that far behind, we have the group of people who seem to think that the S Pen should remain an exclusive feature of the Note series. Those readers represent a significant 45.55% of voters. Finally, our light-headed, third option, which read "What is an S Pen?", managed to generate a flimsy 3.41% of the votes, though we're far from convinced that these people don't really know what an S Pen is. Still, we sincerely appreciate their willingness to shake things up a bit.