Do you own a smart wearable (smartwatch, smartband, etc.)?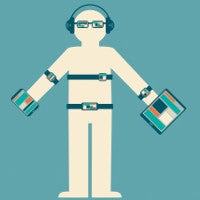 Smart watches, smart fitness bands, smart glasses, even smart rings! It truly is the age of smart wearables. And new ones keep on coming out, too—just recently HTC partnered with Under Armor to create a smart fitness band, all the while Samsung pushed new, fancier Gear S2 styles. Right now at our offices, we have over two dozens of wearables—from smartwatches through smart wristbands. It's a growing market, and while it's quite unlikely that it will ever get to a point where it rivals the gargantuan scale of the smartphone one, manufacturers are definitely paying attention. And you know what that means: more products for us to pick from.
How many of you actually own a smart wearable, however? We have to continually ask ourselves questions like that because the gear in our building isn't reflective of that of the random Joe. So it's important for us to get some perspective every once in a while, and a community poll sounds like one way to go!
So, without any further ado, do you own a smart wearable? If yes, is it a smartwatch, smartband, or something else entirely? Let us know by voting in the poll below.