District Attorney in Long Island, New York moves for smartphone kill switch against those busted for texting and driving
15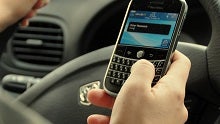 The District Attorney for Nassau County, New York, Kathleen Rice is setting the stage to mandate either a hardware, or software solution that would disable the cell phones of drives who are convicted of texting while driving.
She has not chosen a specific solution, but the idea, as she wants to implement it, would be similar to existing tools that are installed on those who are convicted of drunk driving, which include ignition locks, transdermal alcohol monitoring bracelets, and in-car breathalyzers. As is the case with drunk driving convictions, the driver pays for the hardware.
DA Rice is still evaluating the technology, but her announcement is timely amidst the recent news of
20-year-old Abby Sletten being charged with negligent homicide
after killing 89-year-old Phyllis Gordon in a car wreck this past spring in North Dakota.
"Hardware and software solutions that block texting during driving are currently produced by various manufacturers and software developers, and are constantly under development. The DA's office does not endorse any particular company and is in the process of reviewing specific solutions based on their features and services. Critical features include security measures to make the solutions tamper-proof, and data integrity measures to ensure accurate reporting to courts, law enforcement, parents, and guardians." – Nassau County District Attorney Kathleen Rice
44 states ban texting while driving. If DA Rice gets her way, the punishment would only be effective for residents of her county of jurisdiction, Nassau County, not statewide.
source:
Ars Technica