Disney toys come to life on iOS, Android devices
8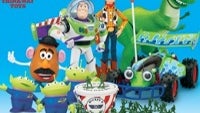 There are thousands of Disney toys sold to kids throughout the world, but while they are all pretty much static, with "DreamPlay", a new app for the iPad and Android devices, you can bring them to life. At least virtually.
Walt Disney has now partnered with toy makers JAKKS Pacific and Patrick Soon-Shiong to link real physical toys to virtual reality. When you point your device's camera at a toy it will get automatically recognized and one of thousands of animations will animate the toy on the tablet screen.
You'll see fairies fly around, critters playing musical instruments and other mythical characters playing the piano. Disney hopes to thus engage children to play more with their toys.
The app itself works with all those animations and images stored in the cloud. It was already demonstrated at CES. We're yet to see whether children will like the idea, but this is one more demonstration of the endless possibilities for our mobile devices.
source:
Reuters