Digify lets you share files privately and self-destructably
6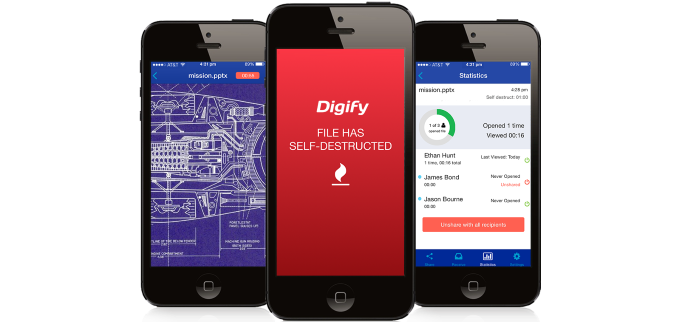 For times where you want to share files privately and exercise control over the entire process - including the duration in which they will be up for viewing and using by their recipient - try Digify.
Digify lets you do all that with a clean and unobstructed interface that looks like an actual app, and not like something designed for use within the CIA.
With it, file sharing is a view-only, self-destructing affair. The app integrates with Dropbox to control the files you upload to the cloud, and features advanced copy protection akin to an automatic NDA.
Shared files can't be forwarded, downloaded, or copied by their recipient. There's even protection against screen-copy attempts.
Shared files destroy themselves after a time limit between one minute to one month, and in the meantime, you have the ability to un-share them at any moment.
For the time being, Digify is a free app, and its developers are on the lookout for feature requests and bug reports, so if you are interested, now is the right time to jump in and contribute to it becoming an even better experience.