Did you know that waterproof smartphones like the Sony Xperia Z3 exist because Japanese girls love to shower with them?
40
Sony's Xperia Z smartphones are famous for their resistence against water and dirt. We probably didn't have to tell you that, but this sort of protection is definitely a big deal — especially when it's packed not into a big, mean Caterpillar phone that's made to military apocalypse survival standards, but rather a slick premium handset that's a joy to feel and behold. We'll always keep a fond memory of how promoters used to drop the original Xperia Z inside aquariums and take it out wet, but unscathed and fully operational!
Interesting enough, water protection has been, almost exclusively, a virtue of Japanese smartphones. Samsung toyed with the feature in the
Galaxy S5
, but dropped it from its extravagant successor, destining it for the
Galaxy S6 Active
instead. Motorola kindly obliged to Verizon's request and put out a protected smartphone too, the
Droid Turbo
. Save for that, and probably a few more non-Xperia smartphones that we're missing, Japan is where water-protected handsets thrive. Over there, Sony, Sharp, and even local heroes Panasonic and Fujitsu have water resistance as a staple of their exotic smartphones' spec sheets. But why is it Japan, of all of Earth's places? The answer will surprise and possibly delight you! Spoiler - it's not the rain!
Apparently, the contemporary waterproof smartphone's existence is rooted in a peculiar user habit of Japan's female population! The younger part of said population, to be more precise. According to Panasonic executive Taro Itakura, 90 to 95% of smartphones sold in Japan are waterproof because young Japanese women prefer to use their smartphones even while they are taking their showers! That's right — your Sony Xperia or
Sharp AQUOS smartphone
are considered "must products" in Japan, possibly right next to soap, shampoo, and a trusty sponge. Then again, can you really take a proper bath when your attention is preoccupied with the latest notifications and updates? We don't know, but we certainly cannot underestimate Japanese women!
Can you really take a proper bath when your attention is preoccupied with the latest notifications and updates?
What's up with the rest of the world's women, though? Well, seeing that Sharp, Panasonic, and Fujitsu are yet to break outside the Japanese market, and that people certainly aren't going as crazy for Sony's Xperia smartphones as they are for, say, Samsung and Apple's, we're naturally led to assume that the majority of, say, European and American women, are mostly free of such bathroom habits! However, Sony's Czech headquarters did try to give Czech women an unambiguous hint at the possibility of showering with a smartphone. Sadly, we don't have the data to tell you how well this went down, but at least
we've got the photos to prove it happened
!
Then again, Panasonic, Sony, and the rest of the Japanese smartphone industry isn't as fixated on women showering as it may seem. Florian Sohn, a Panasonic marketing specialist for Europe, acknowledged that a third of damages to phones come from incidents involving water. Fellow smartphone maker Fujitsu goes even further with its "rugged phone" philosophy! According to corporate SVP Nobuo Ohtani, the smartphone is with us 24 hours a day, accompying us to the bathroom, to the shower, under the rain, or in dusty environments, which makes it a necessity for the phone to be robust.
So, do you own a waterproof phone? Have you had any water-related incidents with your handy, waterproof or not? Do you really shower with your phone? This is the place to tell us all about it in the comments section below. We aren't judging! Hey, the whole Japanese smartphone industry loves you for doing that type of stuff! Who are we to argue against it?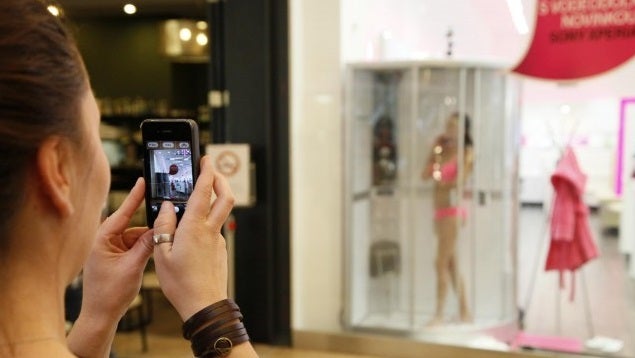 References:
the NY Daily News