Did you know that it has been more than 40 years since the first phone call was made?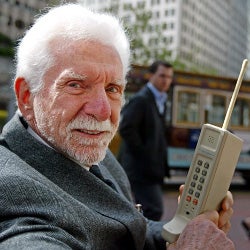 Did you know that it's been more than 41 years since the first call on a cell phone was made? It happened on April 3rd, 1973, when a call was placed by an engineer who had spent years making it - Dr. Martin Cooper of Motorola. On that Tuesday Dr. Cooper took a stroll on New York City's Sixth Avenue, carrying a 2.2-pound device that passers-by could not have possibly recognized. It was the first cell phone, the Motorola DynaTAC, a gadget of massive proportions that did not fit in any pocket. It was free from wires, though, and dazzled the world with its by then unseen capabilities...
Cooper used that special moment to call none other than his chief rival, Dr. Engel, the research chief of Bell Labs, a company in close ties with AT&T at the time. It was a victory for Motorola, and Cooper personally, who is now known as the creator of the cellular telephone. And even though that device would look hideous by today's standards, it was still the originator of today's iPhones and Galaxies. One thing that we can really thank the technology progress, though, is the decline in prices since then - the DynaTAC cost a whopping $3500 at the time.
Interestingly, cellular technology as a whole was actively being developed back in the days of WWII (the 1940's), but it wasn't until the 70's until it started becoming widely commercial. And even though that first break-through phone call was placed in 1973, it was not until the late 70's that the mass adoption of cell phones started.
Curiously enough, the first big cell phone network was established in 1979 in Tokyo, Japan, covering the Japanese metropolitan with 23 base stations. Soon after, in 1981, the Scandinavian countries followed suit, launching the first roaming network across Sweden, Denmark, Norway and Finland (hey, that's where Nokia comes from!), of course. Cell phones started arriving en masse into the United States a whole 10 years after Dr. Cooper placed the historic first phone - only in 1983, the metropolitan Chicago area opened its cell network to customers and kicked off an era of mobile in the United States.
The US, however, long played catch-up. In fact, Finland was the place where mobile innovation flourished in following years: that's where the first 2G network was launched, after all. Finland also scored innovation in many other aspects of mobile tech: text messaging (started in 1993), ringtones (1998, Finland) and widely-spread mobile Internet service (1999, Japan).
Jumping so quickly through history brings us to modern times with the coming of 3G networks in 2001. 3G was a hugely important technology that most countries are still relying on for mobile data - the HSPA protocol made for fast data transfers, but it was also compatible with the previous generation of networks.

That's how it all started back in the years, bringing us today's cell phones with 4G LTE connectivity that often outpaces that of your home Internet (but boy, do those data limits still hurt) and with phones that can communicate with satellites, nailing our location with great precision. What will the future bring? The times of net neutrality and the very essence of the Internet and mobile is challenged every day, so only time can tell, but in the meantime, we can take action to prevent those freedoms, and hope for the next big thing in technology.