Did you know that Samsung once struggled to make mobile phones comparable to Motorola's?
35
While Samsung and Motorola are both big names in the mobile industry, there are huge differences between them. Samsung is currently the world's largest mobile phone maker, generating a lot of cash from its phone business, while Motorola had troubles in the last years, this leading to its Mobility division being bought by Google, and (later this year)
by Lenovo
. But you probably already knew this.
What you may have not known is that, about two decades ago, Samsung was struggling to manufacture its first mobile phones, and, at first, it just couldn't match the quality and performance of Motorola's handsets from back then.
Of course, Motorola was a pioneer, having released the world's first commercial mobile phone in 1983 (the Motorola DynaTAC 8000X, a large and heavy device that weighed about 800 grams). So it's probably safe to assume that not only Samsung, but most phone makers looked up to Motorola at some point in their history.
Samsung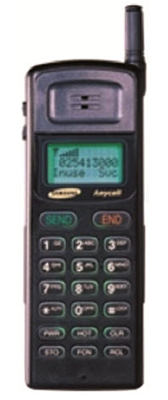 completed the development of its first mobile phone in 1991, and released various models in the next few years, initially only in South Korea. But the first devices were far from being great. It's said that, in the early 90s, a Samsung engineer had witnessed a mountain climber making calls with a Motorola handset from the top of a mountain in Korea. The engineer then took a Samsung phone to the same location, but couldn't make any calls, as the device had no connection at all there. This led to Samsung investing a lot more into research and development (including connectivity technology). In 1993, Samsung's mobile phone division literally had the task of producing handsets "comparable to Motorola's by 1994, or Samsung will disengage itself from the mobile phone business."
Eventually, things got on the right path, and, in 1994, Samsung launched the SH-770 Anycall (pictured on the right). This was the first handset that the company's execs were happy with. The SH-770 and other subsequent models helped Samsung dominate the South Korean mobile market starting the second half of 1995. Before that, Motorola was the leader in Samsung's home country. Interesting times, isn't it?
Since Motorola had a great influence over Samsung and the mobile phone industry in general, we'll end this article with a promo video used by Motorola in the 80s, when the "cellular revolution" was only a dream of the future: