Did you know that Samsung once had cell phones with built-in hard drives?
12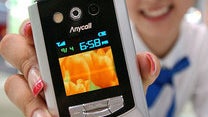 Nowadays, even a dirt-cheap smartphone packs a few gigabytes of built-in storage. What's more, additional storage space can be added to most phones using a microSD card, the largest of which have a capacity of 128GB. It wasn't quite like this some 10 years ago. The storage capacity of cell phones was measured in megabytes, and spacious memory cards weren't exactly cheap.
That's why the announcement of the Samsung SPH-V5400 simply couldn't go unnoticed. Unveiled in 2004, it boasted 1.5GB of storage space, allowing users to carry around a substantial cache of media with them. What was even more impressive about the phone was that it used a hard drive as storage medium. Yes, a hard drive like the kind you'd see inside a computer, only smaller, around an inch in size. The phone was also equipped with a 320x240-pixel LCD screen, an OLED secondary display, and a 1.3MP camera.
Now, you'll probably argue that hard drives, being mechanical devices in nature, aren't fit for use in devices like cell phones. And we'd agree - hard drives are fragile and probably won't endure an accidental encounter with a hardwood floor. Yet this didn't stop Samsung from launching a successor to the V5400. In 2005, the Samsung SGH-I300 was announced, offering 3GB of built-in storage space. A variant of it called the i300X had an even larger, 4GB hard drive. Unlike the previous model, the I300 was a candybar phone, not a flip phone. Also, it was one of the company's first handsets powered by the Windows Mobile operating system, which allowed it to access the web and run applications.
In 2006, Samsung gave tiny hard drives another go by announcing the Samsung SGH-i310, which had 8GB of built-in storage and a microSD card expansion slot. It also boasted a 2MP camera, a 240x320-pixel display, Bluetooth 2.0, and ran on Windows Mobile, which gave it plenty of functionality.
Did you know about Samsung's lineup of hard-drive-packing cell phones? Let us know in the comments!