Did you know? Apple was not the first company to sell iPhones
39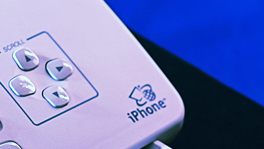 Apple invented names like iPod and iMac, obviously also being the first to sell devices carrying these names. But things are different when it comes to the iPhone - by far Apple's most successful device to date. You see, iPhones existed long before Apple introduced its
original iPhone
in 2007, and people used them to make calls and access the internet. How's that possible? Well, read on to find out.
The world's first device called iPhone was released way back in 1998 by a California-based company called InfoGear, and was marketed as an "Internet Touchscreen Telephone." Obviously, this was no smartphone, at least not in the way we perceive smartphones today. The InfoGear iPhone was a desktop telephone featuring a resistive black and white touchscreen display (640 x 480 pixels, stylus included), a slide-out QWERTY keyboard, web and email access, and 2 MB of RAM - enough for "at least 200 email addresses." The device was sold for a bit under $500, and you had to pay a separate fee for internet access, starting at $9.95 per month (or $19.95 if you wanted "unlimited browsing").
But
The non-Apple iPhones were also multitasking devices
it seems that the InfoGear iPhone was ahead of its time. After a redesigned model introduced in 1999, InfoGear stopped making iPhones. In the early 2000s, the company was bought by Cisco Systems (currently the largest networking company in the world), so the iPhone name and trademark changed owners. Starting 2006, Cisco used the name for a VoIP telephone called Linksys iPhone.
In early 2007, Steve Jobs took the stage at that year's Macworld convention to announce Apple's first iPhone, and Cisco was quick to sue the Cupertino company for trademark infringement. However, the dispute was settled before the Apple iPhone hit the market (June 2007). While they didn't disclose financial details on the deal, Apple and Cisco agreed - interestingly - that they would both have the right to use the iPhone name. As you probably know, though, we haven't seen any Cisco iPhones since then. And, most likely, we never will: the iPhone is undoubtedly an Apple product now.
references:
Internet History Podcast
,
CNN
,
Cnet
,
Wikipedia