Did Apple pay $21 million to use the Swiss Railway Clock design?
21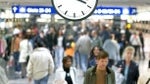 When the Swiss Federal Railway (SBB) got a look at the clock design on the world time application in iOS 6, it looked quite familiar. To borrow a phrase from Apple, the clock had the "look and feel" of the SBB's train station clocks. The clock was designed by SBB employee Hans Hilfiker in 1944 and has been recognized as an "
iconic example of 20th century design
" by the Museum of Modern Art in New York and the London Design Museum.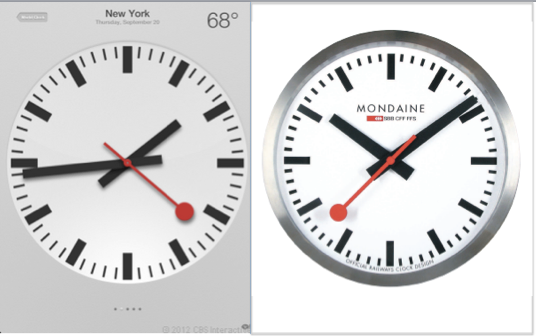 Apple used SBB's iconic clock design in iOS 6 (L)
When iOS 6 launched in September, SBB says it
did not demand
any payment from Apple and in fact, was honored that the Cupertino based company would decide to copy its clock design. SBB spokeswoman Patricia Claivaz said back in September that, "
We're rather proud that a brand as important as Apple is using our design
." Despite being so honored, Claivaz said in September that SBB would meet with Apple to discuss why the tech giant had used the clock design without authorization.
In the middle of last month,
both sides agreed on a deal that would allow Apple to license the design of SBB's train station clock
for its mobile OS. While the amount of money Apple paid to the railway was not disclosed at the time, on Friday global news agency AFB cited a Swiss newspaper in saying that Apple
paid $21 million
for the right to use the design.
Was it worth it? It certainly is a nice looking design and Apple definitely has the cash to pay it. But it still begs the question that SBB even wondered about. Did Apple think it was going to get away with using the design without paying for it?
source:
AFB
via
CNET