Did Apple CEO Tim Cook really tell Trump that the company is building a trio of U.S. factories?
25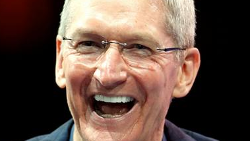 This past Tuesday, in an interview with the Wall Street Journal,
President Donald Trump said that Apple CEO Tim Cook had promised Trump that he was going to build three "big, big, big" factories in the U.S.
The president also said that Cook had called him to say that Apple was going forward with the U.S. factories. But Apple has historically strayed from using its own factories; the company currently owns just a single plant and that one is in Ireland.
Apple's use of contract manufacturers angers Trump, who called out Apple during the campaign for not making its mobile devices in the U.S. using domestic workers. Currently, only the Mac Pro rolls off an assembly line based in the states. Those factories building the computer might be found in Austin, Texas and Fremont, California, but they belong to the contract manufacturers.
One reason why Apple isn't expected to build one factory in the U.S. much less three plants, has to do with the supply chain set up that CEO Tim Cook put together in China. If Apple has to ship iPhone or iPad components from China to the U.S.to be assembled, it certainly would negatively affect Apple's profit margin. Also affecting the margin would be the higher paychecks Apple would have to pay workers in the U.S. As a result, Apple would have to accept a lower profit or raise prices. Carolina Milanesi, an analyst with the technology firm Creative Strategies, notes that "You don't go from small facilities for a Mac to three plants."
So what about Trump's comments about being promised by Tim Cook that Apple is moving forward with plans to build the plants? We will leave that for Apple to respond to. We should point out that Apple has not confirmed the president's comments in any way.
Trump has tried to entice Apple to build factories in the states by hinting that he would allow U.S. corporations to repatriate funds held overseas at a lower tax rate for a one time tax holiday. Apple currently has $40 a share in overseas holdings, which works out to $250 billion. The current top tax rate for repatriated funds would be cut from 35% to 10% according to one version of the the president's proposal, and Apple would be one of the U.S. firms to benefit greatly from a one-time tax break.
source:
WSJ