Did 100 iPads save Greece from financial collapse?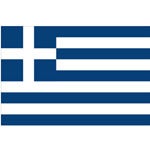 The government of Greece has been struggling with debt restructuring amid one of the world's worst financial struggles in history. The government needed to find a way to drastically slash the debt from $270 billion to $140 billion, and thanks in part to the iPad, it did just that.
Looking for a radical, more efficient method in the way the financial restructuring was done, the government brought in Bob Apfel, of Bondholder Communications Group. He was responsible from getting some 100,000 bondholders located around the globe to sign off on restructuring plan comprised of a series of complex transactions. The challenge with that sort of task is how to get the literature out and available to so many people remotely.
Apfel felt that the best means to do this was to create a custom debt restructuring app, and distribute it to those needing to use it through the use of the iPad. The goal was to create "a platform that could follow the financier" said Apfel. He went on to say "It was the largest financial transaction in the history of the world, and we couldn't have done it without the iPad."
The story turned out great, and yes, Greece was saved (in part) thanks to the iPad and some ingenuity on Bob Apfel's part. Greece knocked $130 billion in debt off its books, and is now a more healthy, financially stable country.
source:
AppleInsider