Developer launches a Kickstarter project to build the triangle tablet from 'The Office'
20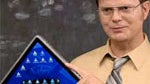 If you watch The Office, you probably got quite a chuckle when Dwight presented the Sabre Pyramid, a triangular tablet. When Eric Calisto saw that episode, he thought that it was a good idea and has decided to pursue developing one.
Calisto has started a Kickstarter project to raise the $25,000 he will need to produce his first run of triangle tablets. In his posting he says, "
Tablets are fun, intriguing and innovative, but they seem to only come in the boring rectangle form factor.
"
He specifies that the triangular tablet will be Android powered, but there is no information of how an Android app would be displayed on a triangular screen. As of this posting, he only has one backer with a total contribution amount of $1, so we may never get to actually see this creation.
Honestly, this seems like an overall terrible idea, but at least he will have comfort in knowing
Apple won't be able to come after him for infringing on its design patents
.
source:
Kickstarter
via
All Things D