Desktop class - Intel is testing Core M processors in smartphones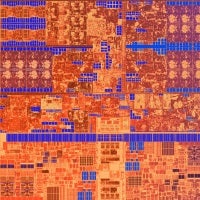 At the IFA 2015 conference in Berlin, Intel's General Manager Kirk Skagen revealed that the fabled chipmaker is testing its sixth-generation Core family chips (based on the Skylake architecture) in smartphones. The promising bit of news comes related to the official launch of Intel's 6th-gen Core family, which encompasses Core M, i3, i5, and i7 chips.
Unfortunately, Intel did not reveal details about smartphone-ready Core M chips. Theoretically, they could enable processing power comparable to lower range Core M laptops and hybrid devices, but this doesn't mean your Android smartphone will become an Android laptop replacement. First off, Intel is optimizing its silicon for Windows 10, which means those Core chips are targeting Windows smartphones and tablets. And second, the scalability of Intel processors is proportional to their power draw.
See, Intel has no problems fitting a chip inside a device as small as the Compute Stick, but a battery-powered smartphone presents a different challenge. Battery and cooling technology doesn't seem to be catching up as fast as processing and memory tech, which means integrating a powerful CPU into a phone is tied to liberal amounts of clock speed throttling.
However, let's not be too quick to burst anyone's bubble with so little information available. The main takeaway here is that true desktop-class processing power may become available in mobile devices in the non-too distant future. Thanks, Intel!