Department of Justice approves Verizon's $3.9 billion purchase of new wireless spectrum
4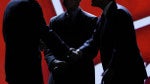 Verizon is almost there when it comes to its
purchase of AWS wireless spectrum
from cable companies, of which we told you back in July. Back then, it was rumored that the FCC will give the thumbs up to the deal, but it was yet to be seen what the Department of Justice things about it.
It has now been announced that the DoJ is a-OK with the $3.9 billion deal going through, with one of the few limitations being that Verizon Wireless will not be able to market cable services in areas where Verizon Communications is marketing and selling its FiOS television and Internet service in direct competition with Comcast, Time Warner Cable, Bright House Networks and the other cable companies involved.
The only thing that Verizon needs to wait for now, before popping the champagne, is the FCC's green light to go, which shouldn't take too long, as FCC chairman Julius Genachowski has already stated that the Federal Communications Commission is likely to approve the deal.
Here's what the head of the Antitrust Division of the DoJ, Joseph Wayland, said about the decision:
"By limiting the scope and duration of the commercial agreements among Verizon and the cable companies, while at the same time allowing Verizon and T-Mobile to proceed with their spectrum acquisitions, the department has provided the right remedy for competition and consumers.
source:
Electronista
Recommended Stories