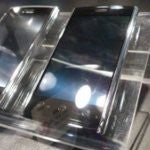 After reviewing the Dell Venue Pro, we're still at a gaze by the handset's stunning looks which can be argued as the best looking Windows Phone 7 smartphone released to date. However, some might be put off my its girth which can prove to be a bit unwieldy for some out there – thus preferring to opt with something a bit more streamlined and easier on the pockets. That's where the
Dell Venue
comes to mind as it retains the lovely industrial design of its Windows Phone 7 counterpart that we fell in love with – but rather, it's going to be running the Android platform.
As for the handset itself, it was far away from the smudging fingers of attendees at CES and was placed alongside the Dell Venue Pro in a glass case. From what we saw, it literally looks like the Dell Venue Pro; but without its portrait style sliding keyboard. Naturally, the Dell Venue can be seen as more tolerable on the pockets since it shaves away a few inches off its case because of the lack of the keyboard. Moreover, it appears as though it's
retaining the same unique looking curved glass
that provides a distinctive difference over other devices out there on the market. Looking back at previous Dell smartphones, like the long forgotten Dell Aero for AT&T, the Dell Venue comes out of the gates showing off a stellar looking industrial design that's undoubtedly going to attract Android users all around.
And when there is so much competition in the Android space right now, the Dell Venue still packs enough
worthwhile specs
to keep it in line with the barrage of other upcoming Android smartphones. In fact, it features a 4.1" AMOLED capacitive touchscreen, 1GHz Snapdragon processor, and an 8-megapixel auto-focus camera.
Since the handset was locked away in its glass prison, we couldn't see the handset running Dell's customized interface running on top of Android 2.2 Froyo. So far, Dell's Stage UI looks pretty impressive after checking it out on the Dell Streak 7 – meaning that the translation to the Dell Venue is going to be just about the same. Granted that Dell will be selling the handset
unlocked
, let's just hope that they're able to strike some good relationships with the carriers, or even retailers, to bring the smartphone to physical locations as opposed to buying it directly from them.