Limited time deal: Sprint offers three lines of service for free to switchers
2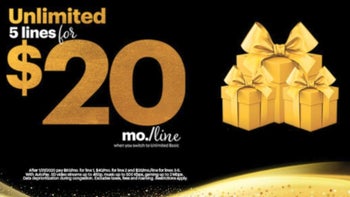 Sprint recently kicked off a new promotion that targets new customers who switch from another carrier and want more than one lines. Basically, the new offer is aimed at families that want to hop on Sprint bandwagon, but don't want or can't afford to pay for multiple lines.
Starting December 14, customers who switch from AT&T or Verizon can sign up for Unlimited Basic and get lines three, four and five for free.
Thanks to this promotion
, customers will only have to pay $20 per month per line for five lines.
Sprint promises 2X faster speeds than before with
LTE Advanced
and 30 percent more LTE coverage than before. Also, if you decide to go for the deal, here is what you'll get with Unlimited Basic:
All your TV in one place with Hulu;
Stay connected with 500 MB Mobile Hotspot;
Streaming in SD (DVD-quality);
In Mexico and Canada, enjoy unlimited talk and text and 5GB of 4G LTE data;
Global Roaming in more than 200 worldwide destinations;
Unlimited data, talk and text nationwide;
Add HD streaming with Unlimited Plus for an additional $10 per month per line.
Keep in mind that the deal will only be available for the next two years, so after January 31, 2020, you'll have to pay $60 per month for line one, $40 per month for line two and $20 per month per line for lines three through five with AutoPay.