Deal: Google Nexus 9 32 GB now costs $299
6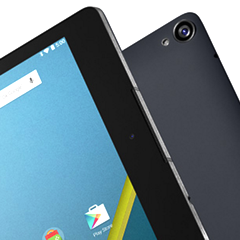 The HTC-made
Google Nexus 9
is now a rather old tablet (it was originally released in November 2014), but it remains a nice device. Thus, we're happy to inform you that the slate's price has been discounted, though it seems that, just like in the case of the
previous Nexus 9 deals
, this isn't a permanent discount.
A Nexus 9 32 GB (Wi-Fi only) can now be purchased for as low as $299.99 from Amazon. At the same time, the 16 GB version of the tablet costs $290 - obviously, you would be crazy to get this one, instead of paying $10 more for the 32 GB model. Meanwhile, if you're visiting HTC's US website, you'll still find the Nexus 9 offered at its original prices ($399 for the 16 GB variant, and $479 for the 32 GB one), so, at the moment, Amazon is a better place to shop for the device - see the source link below.
It's likely that, pretty soon, Google will discontinue the Nexus 9 to make room for a brand new stock Android tablet. This could happen when Google releases the final version of
Android N
- sometime later this year. Of course, the Nexus 9 will be updated to Android N anyway, so you won't be left behind if you're buying the tablet now.
No images
source:
Amazon
via
Droid-life