Google News app starts receiving Dark Theme
8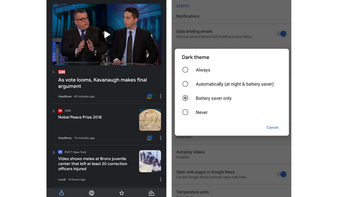 So what makes everyone go crazy for Dark Theme? Well, for one thing it is the reverse of your regular black text on white background. And with white print on a black or dark background, apps look different and fresh. And using Dark Theme at night, or with the lights out, prevents the white background from melting your retinas and hurting your eyes. We should point out that there are some who prefer having this setting toggled on even in the light of day.
Google has been adding Dark Theme into quite a few apps lately, including the Android Phone app, the Google Feed, Android Messages
and YouTube
. Now, Google News is the latest app from the search giant to give users the option to enable Dark Theme.
Screenshots reveal that users of the Google News app will have the option of setting Dark Theme to permanently be enabled on the app, turned on automatically at night and when the Battery Saver is on, activated just when the Battery Saver is toggled on, or be permanently disabled on the app. It appears that the new feature will be part of version 5.5 of the Google News app. Version 5.4 is currently posted in the Google Play Store.

If you want to install Google News on your Android or iOS phone, click on the appropriate link: (
iOS
|
Android
).
Recommended Stories