Danger HipTop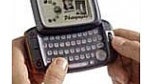 »
Introduction


Founded in January 2000, Danger, Inc. is a privately held company based in
Palo Alto
,
California
. Backed by leading venture capital firms and corporate investors, Danger was founded by former Apple, Philips and WebTV veterans Andy Rubin, Joe Britt and Matt Hershenson. Guided by the principles of style and affordability, Danger has created an integrated wireless Internet experience that delivers the freedom to communicate where you want, when you want and how you want.
Danger provides an end-to-end mobile applications platform which includes a back-end service, a framework that uses standard development tools, and hiptop hardware designs. The integrated Danger solution enables wireless service operators to enter the market quickly with compelling products and services.
Danger announced the Hiptop last September at the DemoMobile trade show in
La Jolla
,
Calif.
The device combines a cell phone, personal digital assistant and pager.
The hiptop is a live device that seamlessly connects to wireless networks, providing consumers the freedom to browse the Internet, exchange instant messages, and send and receive email with attachments. Additional hiptop features include a full-featured phone, personal information management (PIM), entertainment applications, and a camera accessory.
The Danger solution is designed to provide a low-risk, future-proof platform for content and service delivery. The hiptop will be introduced to the consumer market in late Spring 2002 for around $200, though final pricing is up to the carriers. Danger will start partnership with Voicestream Wireless, which will be starting trials with the Hiptop within the next month on its GSM/GPRS