CyanogenMod is working on a Chromium-based Android browser called Gello
7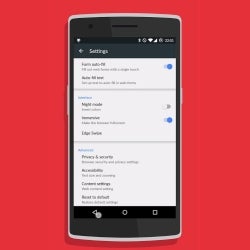 CyanogenMod, the team behind the Android ROM with the same name, recently announced that they are working on a new Android browser based on the open-source Chromium browser. CM's new Android browser will be called Gello.
Published and maintained by Google, Chromium is an open-source version of the Chrome browser. Apparently, the CM team plans to bring a ton of customization to Chromium by bringing new features to the upcoming Gello browser. Some of the most interesting features include the ability to rename and relocate downloads, the ability to cycle through open tabs using an "edge swipe" gesture, as well as site-by-site privacy settings.
Other features that CM plans to bring to Gello include a night mode, a power saver mode, an immersive mode that eliminates ads and pics surrounding an article's body, and a "save for offline" feature.
If you're rocking entry-level handsets, then Gello might not be for you. According to CM team member Joey Rizzoli, Gello will not be available on "low end devices or devices with small system partitions". Rizolli also mentioned that the team plans to bring more features to Gello, and we're really curious to learn what the CM team comes up with.
At the moment, we don't have a potential release date for Gello. When the browser eventually gets published, it will come with an open source licence, allowing everyone with enough imagination or programming skills to contribute to the project.
For a feel of CyanogenMod's upcoming Gello browser, check out this official teaser video: