CyanogenMod 9 arrives to Samsung Galaxy S III
8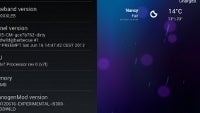 If you're among those lucky ones who already sport a Samsung Galaxy S III, here's some good news for you - official nightly builds of CyanogenMod 9 for the SGS III are now out, and they pack a lot of features for an early build.
Basically, everything is working with the exception of the FM radio, plus there are some issues with camera flash. Battery life seems to have gotten a boost on this ROM. Now, on the downside, you don't get the burst mode camera app by Samsung and the hardware-accelerated browser, and that might seem just too much of a sacrifice already.
Good news is that even if you don't like it, you can relatively easily go back to the stock TouchWiz ROM, and have your Galaxy S III look as watery and as nature-inspired, as it was on day one.
The details are all at the source link below, so head on bravely to XDA Devs to get the full instructions on flashing.