Cyanogen 9 coming soon to Galaxy Tab 10.1
4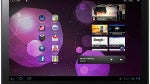 The last we had heard, Cyanogen 9, which is based on Android 4.0 Ice Cream Sandwich, wouldn't be rolling out for a
couple months
, or at least we shouldn't bother asking Team Douche about it for a couple months. But, now it seems Galaxy Tab 10.1 users may get in on the fun much sooner.
Just last week Steve Kondik, founder of Cyanogen, tweeted that work had begun on Cyanogen 9. A mere four days later, he posted on Google+ (he plussed? he GPed? We need a good verb for it...) and said that Cyanogen 9 is "great" on the Samsung Galaxy Tab 10.1, and should be "coming soon" to CyanogenMod mirrors.
We expected work on Cyanogen 9 to go faster on Honeycomb tablets because the drivers for those devices would more easily port to the Ice Cream Sandwich code, but even this is faster than we could have expected. Definitely can't wait to see this in action.
source:
Steve Kondik