Crowman and Wolfboy hands-on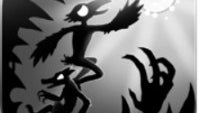 Gameplay is essential in making a successful mobile title, but equally as so, the graphics can enhance the overall value too. PAX East 2014 laid claim to a few mobile games with snazzy looking graphics, so it would seem as though 2D titles would have no chance in catching our attention. Interestingly, one particular title managed to catch our attention with its peculiar gameplay and even more appealing visual presentation. The title in question is Wither Studios' Crowman & Wolfboy, a unique action platformer game for iOS.
Firstly, the noire look of the game got our attention the most, since it's unique and distinctive from the usual colorful and 3D heavy visuals of today's titles. In this 2D action-adventure platformer, we take control of a pair of shadow creatures that run throughout the environment to outrun the darkness that's slowly creeping up to us – trying to engulf the world in pitch black. Even though the game is mostly presented in black and white, there are levels that have some color, which is a nice change in scenery, but the black and white element is undoubtedly a different stylized look.
Controlling our pair of shadow creatures is simple, seeing that it relies on typical touch controls. Moving our characters requires a variety of swipes and presses, where we're able to move left/right by swiping accordingly – and jumping by tapping the screen. Of course, since there's a platforming element here with Crowman & Wolfboy, timing is essential in getting our pair to advance through each level. Along the way, we can pick up the handful of light orbs to repress the darkness from overtaking the world.
As we progress, we're able to obtain additional abilities and unlock hidden items to help us on our quest. Overall, we got to say that it's a simple game that has a strong presence with its unique visual style. It's different obviously, which really helps to stand head above water against other platforming titles. Currently, it's available to purchase for $2.99 through the App Store for select iOS devices, but it's coming to Android as well soon.