Cook won't announce Apple Watch sales specifically in future quarterly reports
21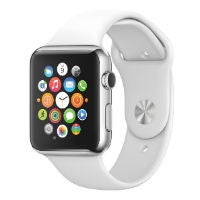 This is something of an interesting revelation. Usually, Apple loves to announce sales numbers of its products, and give (somewhat misleading) charts and graphs to prove why its devices are selling better than previous devices or maybe even the competition. But, Tim Cook said today that Apple will be altering its reporting for future quarterly reports, and we shouldn't expect to see specific sales numbers for the Apple Watch after it is released.
According to Cook, initially Apple Watch will be lumped into a new "other products" category that will also include iPods, Apple TV, and accessories. Cook says that this decision is not because it doesn't expect wearables to be a successful market, but rather because Apple doesn't want to give away too much information to the competition. The plan to aggregate the Apple Watch with other products will help to hide that information from competitors.
It's not a terrible idea. Android Wear has a head start on Apple, so it isn't crazy to think that a competitor would pull together a longer history of sales to make the Apple Watch look like less of a success. It isn't crazy, because Apple would do exactly that (and has done that in the past) if the tables were turned. Though, Cook is reserving the right to "decide something different" in the future, likely if the Apple Watch proves to be far more successful than the competition.