CommBadge gives you a Star Trek: TNG experience…almost
15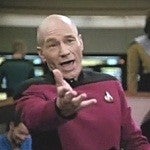 Tired of plugging a Bluetooth earpiece into your head? The CommBadge is a wearable Bluetooth speakerphone designed to work with Android devices and the iPhone. No doubt it will be a welcome accessory for those who are tired of poorly fitting earpieces.
It is activated the same way the crewmembers from
Star Trek: The Next Generation
would activate their chest mounted communicators. The CommBadge will come in three trim levels: CommBadge Classic, CommBadge and CommBadge+. The Classic model is the Bluetooth speaker with clip. The middle trim incorporates an ID holder for business users and the CommBadge+ adds a retractable lanyard. Retail prices are expected to begin at about $95.
The device will be able access Siri or Google Now and perhaps the coolest feature about it is how it helps prevent your conversations from being put on public display. The speaker is designed to provide clean sound to the wearer, but beyond a distance of about one foot, the sound waves will sound scrambled. People will be able to tell you are on a call, but they will not be able to hear your better half griping about forgetting to pick up some milk on the way home. The speaker also functions as a tether, so it can alert you if you leave your phone somewhere and it gets disconnected. There will be companion iOS and Android apps available to customize the CommBadge to work the way you want it to.
The CommBadge is charged via micro USB and battery life is claimed to last a full day on average. The product as you might expect is in the prototype phase and CommBadge is looking to crowd fund the project to get production going.
So, if you are tired of Bluetooth earpieces constantly not fitting correctly in your ear, the CommBadge may be just what you are looking for. Check out the video and source link below…engage.
source:
CommBadge
via
CNET