Climbing Everest with an iPhone and iPad
12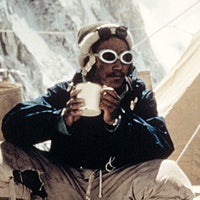 If you are climbing the world's tallest mountain you need to have the most reliable gear out there. So what do the world's top mountaineers pack on their way to Everest?
Ski-mountaineer Hilaree O'Neill participating in the
2012 Everest expedition
is following the route charted by Edmund Hillary and Tenzing Norgay back in 1953, but while there were no computers then, O'Neill has now packed both an iPad and an iPhone in her backpack.
Comparing the 1953 expedition with this year's trip to Everest, you'd see that a lined paper notebooks and a pen were what Hillary used to take notes, while now it's an
iPad
. The reason Apple's tablet survives the heights is the fact that it uses a solid-state drive while traditional spinning hard disk drives often fail at such altitudes.
When it comes to communication, bulky wireless "walkie-talkies" were what was originally used in the 1953 expedition. And bulky here means nearly 5 pounds. An additional pain was carrying the dry-cell batteries in a safe and warm place under the vests. Now, there's signal throughout the whole region and the O'Neill is using an
iPhone
for communication.
What would be the gadgets you'd take with you in such harsh conditions?