BlackBerry explains how the Priv stays secure on the Android platform
32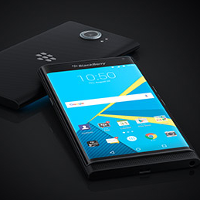 There's a fair amount of anticipation for
BlackBerry's Priv
slider, for a number of reasons. Not only does it have a sliding physical keyboard and a fairly strong assortment of internal hardware, but it also includes Google's ubiquitous Android software. CEO John Chen quipped back in June that BB would only run with Android if his company's stringent security and privacy standards could be preserved, and considering the open source nature of Android, many will be wondering if such promises can still be met. To address the situation, BlackBerry has delivered a blog post that outlines the measures in place to keep the device as secure as possible.
Entitled
PRIV is for Private: How BlackBerry Secures the Android Platform,
the article goes into some detail on just how BlackBerry manages to retain its reputation for providing a secure, private environment. With a strong enterprise following, this is such a crucial aspect for BlackBerry.
True to Chen's earlier sentiments, it would seem that BlackBerry has really done its homework. At the core of its effort to provide a secure user experience is the Hardware Root of Trust, which bakes cryptographic keys into the hardware. The BlackBerry Priv also includes Verified Boot and Secure Bootchain, which collectively verify every facet of hardware and software to ensure that nothing has been unduly modified. There's also what's described as a "hardened Linux kernel", while full-disk encryption is enabled by default. Needless to say, rooting or flashing a custom ROM on the Priv is almost certainly going to be out of the question.
The Priv touts itself as the best of both worlds: a device offering BlackBerry's
"world-renowned security model"
beneath the recognizable face of Google's Android. It's been said that the handset isn't aimed at your typical consumer, and with such an emphasis on security, the company is vying for the corporate and government entities that have long depended upon the BlackBerry name. That said, it's hard for consumers not to be excited about a BlackBerry running Android with full Google Play access; even if -- as some feel -- it's being released several years later than it should have.
The blog post, which can be read in its entirety at the source, is well worth checking out if the Priv is on your radar.