Cingular's future lineup
0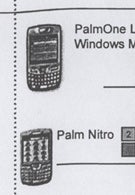 The Boy Genius and Engadget Mobile revealed information and images from an exclusive Cingular roadmap, which contains information on the new phones expected to be launched by the US #1 Carrier.
Part of the upcoming devices are a couple of Palm Treo phones - the Palm Lennon and Palm Nitro. It seems that they are the GSM versions of the 700w and 700p (available with Verizon and Sprint PCS) that get rid of the external antenna and so decrease the dimensions. The Lennon is a Windows Mobile 5 (+MSFP) phone, supporting EDGE, UMTS (and probably HSDPA) and featuring Wi-Fi; the Nitro on the other hand will probably operate on Palm OS. Both phones will have mediocre 1.3-megapixel cameras.


Cingular will offer not only Treo as a high-end device – they are also preparing the latest RIM device with codename Stealth. It seems that it will be another SureType phone (no real QWERTY keyboard) and the first BlackBerry to include a slot for memory card, which will be handy for the built-in MP3 player. Still there is no camera and the phone has EDGE data, instead of the faster UMTS or HSDPA. The Stealth is expected for October / November this year.


The Windows Mobile phones in Cingular's line will grow in number, as they will also launch the HTC Hermes (TyTN), the StarTrek, and the HP 6920 / 6925 (versions without and with camera). The Hermes is the successor of the 8125 – it has 2-megapixel camera, 400MHz processor and its main feature is a global UMTS/HSDPA. Hermes is expected for September / October.


The Star Trekis a Smartphone in a shell, as thin as the RAZR. Its quad-band GSM with megapixel camera and slot for memory and is expected for August / September.
HP iPAQ hw6900 is the successor of the 6500 series PocketPC Phones of the HP iPAQ line, and operates in Quad-band GSM/EDGE networks. It runs on Windows Mobile 5 OS and features 240x240, 65k color touch display with handwriting recognition. The hw6900 also has full QWERTY keyboard and 1.3-megapixel camera with flash. It supports Infrared, Bluetooth and Wireless LAN (802.11b) standards. The device will probably launch in Q3.

As it was rumored, the E62 will come to Cingular. The Symbian smartphone is based on the E61 but lacks both UMTS and WiFi, which turns it into QWERTY-capable phone for $300 or $200 respectively without or with two-year contract. It should come in September or October or even earlier.


As we have expected, the Sony Ericsson W810 Walkman phone and the Motorola V3i RAZR will also be launched by Cingular. The W810 is EDGE capable multimedia candybar, while the V3i is slim clamshell. They are expected really soon.


The last phone the roadmap is the Motorola KRZR. KRZR is actually the model of the "Canary" phone, or the successor of the RAZR family. New information is that it will support the A2DP profile for Stereo over Bluetooth.


Source:
EngadgetMobile