Chinese Galaxy S III knock-off looks almost exactly like the original for a third of the price
27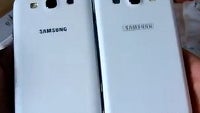 The
Samsung Galaxy S III
is mere days away from launching on the remaining big US carriers like Verizon, but internationally it's been available for over a month now. And that's plenty of time for Chinese white box manufacturers to look at it, study it and... copy it, of course.
This here knock off of the Galaxy S III is brilliant - it looks pretty much like the original. Sure, it's comparatively underpowered, a bit thicker and if you've seen the original you wouldn't exactly be fooled by this here, but it also costs around a third of the price of the SGS III.
But while less powerful than the original, it's not all that laggy and seems actually useful. How come? For starters, it features a 4.7-inch display, a 5MP rear camera along with a 0.3MP front-facing shooter and a 1GHz MTK MT6575 processor paired with 512MB RAM. All of this runs on Android 2.3 Gingerbread.
But we can already imagine you smiling and wondering if it'd even allow playing Angry Birds without a nasty lag. Turns out, the handset actually handles even games like Temple Run, and the interface runs surprisingly smoothly. Best of all, it only costs $209, while the original SGS III is priced at around $650 off-contract. Not that bad of a deal now, is it?
source:
Phandroid