Chen: iCloud hack would not have happened on BlackBerry's network
99+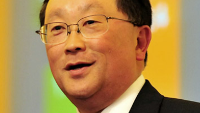 BlackBerry CEO John Chen, who
finished last year in second place for CNN's CEO of the Year
award behind Apple's Tim Cook, sat down for a chat with former Times writer David Pogue. Talking about the secure BlackBerry network, Chen said that the iCloud hack,
which lead to the embarrassing release of photos showing celebrities in their birthday suits
, never would have happened with the BlackBerry pipeline. Noting that
President Obama and other world leaders use BlackBerry
, the executive said that it is the best choice for those concerned with security.
Unlike the previous administrations running the company, Chen understands that he is working for BlackBerry shareholders. "
I love phones
," he said. But, he added, "
I equally like making money
." To that end, the executive says that he hopes that the two latest releases, the business-centric
BlackBerry Passport
and the old-school
BlackBerry Classic
, will first stabilize the installed base, and then bring in a lot of new customers. He characterizes BlackBerry handsets as being productive, secure and private, with a big battery.
Talking about the man he replaced as CEO, Chen said that
Thorsten Heins might have been with the company too long
. When he first replaced Heins, Chen said the company was spending $1.1 billion more than it was taking in, which he knew was not sustainable. The next quarter saw a decline to $775 million of red ink, followed by a loss of $255 million. Then came a return to operating profitability in the amount of $46 million. It truly seems that BlackBerry has turned the corner.
source:
Yahoo