Video shows foldable Apple iPhone concept that opens up to become an iPad mini
12
Before the issues with the
Samsung Galaxy Fold
forced Samsung to delay the launch of the device,
a Korean research firm constructed a timeline
. The chart showed which manufacturers are expected to release a foldable phone and the timeframe when this should happen. The list includes Samsung, Huawei, LG, Oppo Xiaomi, Vivo, Motorola, and even Microsoft. The last name on the chart is Apple, with a foldable iPhone rumored to be released in the second half of next year. Of course, the problems that Samsung has encountered with the Galaxy Fold (and not just those from influencers removing the plastic film from the screen) could set this timeline back.
Meanwhile,
a company called ConceptsCreator
has released a video for its foldable iPhone concept it calls the iFlex. Keep in mind that while concepts are cool to look at, those creating them don't have the same limitations that real engineers and designers have. For example, the Apple employees presumably working on a real foldable iPhone in some hidden room in Cupertino have to be creative when it comes to fitting all of the components together. Those creating concepts don't have to worry about these things. They also don't have to actually source the material to build a reliable hinge and test it to make sure it will stand up to years of use.
With that in mind, the so-called iFlex folds inward like the Galaxy Fold (as opposed to the outward fold required to close the
Huawei Mate X
). It sports a quad-camera set up in back, including what appears to be a Time-of-Flight depth sensor. A pop-up spring-loaded FaceTime camera is seen in the video, which reveals the concept's specs. The external screen measures 5.4-inches and has a 16:9 aspect ratio. It opens to a 7.9-inch screen with a 4:3 aspect ratio. If that screen size sounds familiar, it's because it matches the size of the display used on the Apple iPad mini series. Since this is a concept, things like a crease in the middle of the internal screen are digitally removed, and while the device as a whole looks like a stunner, you can imagine how much a phone like this might cost.
Apple has filed patents for a foldable iPhone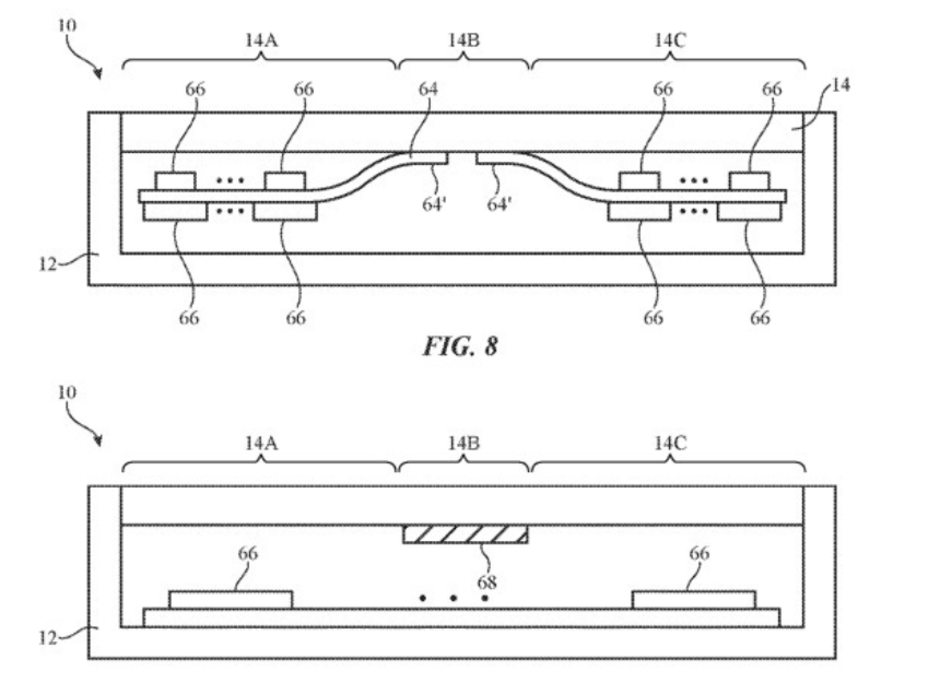 Illustration from a patent application filed by Apple related to a foldable iPhone
Coming up with the hardware is just part of the story. Apple will also have to develop a new version of iOS that will work on a foldable iPhone. And while the Galaxy Fold hardware has been a let down so far, some of the things that the phone offers in terms of features could be copied by Apple. For example, with the App Continuity feature on the Galaxy Fold, an app opened on the external screen will automatically open on the larger screen.