Cell phone radiation can be used to combat Alzheimer's disease?
1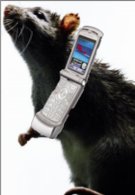 There are people out there that believe using cell phones can lead to various health problems due to the amount of radiation it's emitting. Sure they're invisible to the eye and some of us don't hesitate to pick it up when it rings, but some are skeptical that it can inadvertently result in long term illnesses – so they say. One thing may be certain about it though – it can be useful in the fight against Alzheimer's disease; in mice that is. The complexity of the human body may be more impervious to what the anatomy of a mouse can withstand, but researchers in Florida have discovered that cell phone radiation may be useful against Alzheimer's disease.
The Florida Alzheimer's Disease Research Center experimented on 96 rodents that were genetically altered to develop beta-amyloid plaques in their brains – which is a marker of Alzheimer's as they age. For two one-hour periods each day for seven to nine months, all the mice were exposed to the electro-magnetic field emitted by a standard phone – the cages were arranged at the same distance around a centrally located antenna generating the phone signal. The results were nothing short of surprising – mice with dementia were found to have equal memory and thinking skills as their dementia-free counterparts.
Even more surprising in some cases, their lack of memory disappeared after the exposure. After carrying out autopsies on the mice to see if there were any other adverse effects resulting from the exposure, there was no evidence of abnormal growth in the brains of the Alzheimer's mice and that all major peripheral organs, such as the liver and lungs, were normal. These results took months to come out with the mice, but researchers would expect that it would take the process years to happen on humans.
source:
BBC
via
Gizmodo