Categorizing BlackBerry's new handsets; image of BlackBerry Q20 appears
24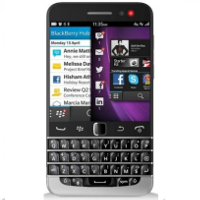 Francois Mahieu is BlackBerry's VP of Global Product Management, and in a published interview, he explained how BlackBerry divides its current handset line up into four categories. First is those phones that fall into the
Affordable
category. This is the heading that the new BlackBerry Z3 would fall under.
That phone, introduced at MWC on Tuesday
, is the first model produced under a five year contract inked by BlackBerry and contract manager Foxconn. Under the terms of the deal, Foxconn designs, produces and warehouses a series of low-end models targeted at emerging markets like Indonesia. BlackBerry is expected to charge $199 for the Z3 which is expected to have a 5 inch screen with resolution of 540 x 960.
The
Classic
category covers the just introduced QWERTY enabled BlackBerry Q20. This model brings back the TrackPad and the function keys. Classic phones are the ones that true BlackBerry fans desire. The
High-End
models are what those in the U.S. want to hear about. There is talk about a model powered by a quad-core processor launching this summer, and another model with a
64 bit octa-core processor is rumored to be coming this September
. Unlike the manufacturer's high-end failures in the past, where the company was more than a generation late with its specs, Mahieu says that people will be pleased by the new 'Berrys in this category.
The last group covers
Prestige
models. Consider these phones like the BlackBerry P9982. These are high priced models that aren't expected to sell in volume.
Will BlackBerry be able to strike the perfect balance amongst all four categories and make a comeback? Once the BlackBerry Z3 launches in April as expected, the clock starts ticking on CEO John Chen's turnaround strategy.
source:
Crackberry