Casio G'z0ne refresh for Verizon coming soon?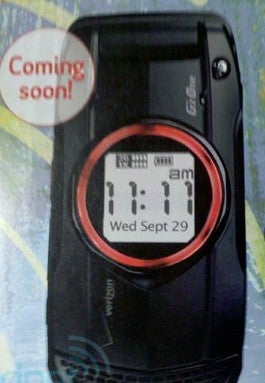 The Casio series of rugged phones for Verizon Wireless seems to be adding a new member to their family. The leaked photo shows a phone called the Casio G'z0ne Ravine which would be an update of previous models.
It has been several months since Casio unveiled their first rugged phone that featured a full QWERTY keyboard, the Brigade. This latest phone, which is currently unofficial, goes back to the classic clamshell form of past models such as the Casio Rock.
The G'z0ne Ravine seems to have all of the things you would expect from a rugged phone with Casio's DNA. It has all of the curves and rubber edges which keep it safe from drops and smashes. It also has Verizon's Push To Talk that was found on past models.
If you take a closer look at the image you will see that the LCD display on the outside of the phone shows the date September 29th. It is possible that this is the release date of the device, but once again this is all unofficial and could change over time. We should learn a little more about the Casio G'z0ne Ravine soon, especially if that date holds any merit.
source:
Engadget Mobile