Casio G-Shock watch brings iPhone connectivity to your wrist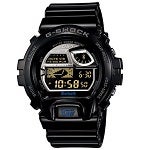 There is a watch for that: The Casio G-Shock GB6900AA. Using Bluetooth 4.0, it syncs to your iPhone and will provide email, phone call, and calendar notifications. It is arguably not as sophisticated as some other smartphone-linking watches, but the G-Shock does make efficient use of its power, which comes from a traditional button-cell CR2032 battery.
Aside from the traditional "watch" features, the G-Shock can be calibrated to vibrate on notifications which can then be silenced simply by double-tapping on the screen of the watch. The watch also serves as a tether to alert you if it should lose a connection and fall out of range of your iPhone. The G-Shock Bluetooth retails for $180.00, is available in four colors, black, brown, white and silver/blue, and is compatible with the iPhone 5 and iPhone 4S.
via:
Mashable