CaseCam employs good old-fashioned mirror tech and tough materials to become the ultimate selfie device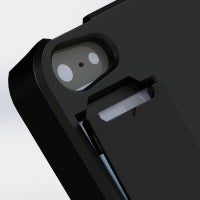 Say you are with a bunch of friends or family, in a special place and you want to capture that moment, but no one is around to take your photo so everyone ends up in it. So it's always up to you, the photographer, to go take it while being left out. CaseCam, which is gaining traction on Kickstarter, wants to put everyone back in the picture by discarding the need for a photographer. How does that work? It's the miracle of mirrors - no smoke included.
CaseCam relies on a flip-out mirror kickstand which lets you take photos and videos without having to hold your phone. Basically, you place it on a surface, and the mirror reflects the light into the iPhone camera. Super simple, but it does solve a particular pain-point. It also makes up for a subtle kick-stand on which to prop your iPhone when you want, and click it back into the case when you don't.
If you happen to wonder how $25 000 will sink into such a simple contraption, take a look at the bill of materials. CaseCam is made from impact-resistant injection-molded Polycarbonate — the same material used to make bullet-proof glass. The mirror is made of optical quality Soda Lime glass with an extremely tight surface flatness tolerance so that your images will not be distorted at all and there is no perceivable loss in image quality. It stows toward the phone when it is not in use, protecting the mirror from scratches.
If it gets funded, CaseCam will ship by the end of the year. Its creators have the suppliers ready to go, and their previous efforts have stretched as far as manufacturing spacecraft and race cars - so it seems everyone involved knows what they are doing! If you are interested, visit the Kickstarter page from the link below.
CaseCam gallery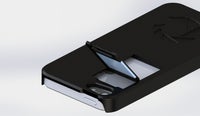 source:
Kickstarter