Captain America: Sentinel of Liberty for Android Review
6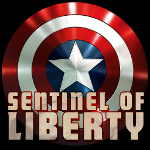 Introduction:
Although he isn't the most well known, popular, or even iconic of Marvel Comics' characters, Captain America is really the heart of the company. He is equal parts Superman (personality) and Batman (no true super-powers), and best of all, he once punched Hitler in the jaw. Now, Cap has his own movie, and of course with a movie comes games. Captain America: Sentinel of Liberty is the second mobile game from Disney Mobile in partnership with Marvel Entertainment.
The game is a side-scrolling action platformer where you play as Captain America (of course) and attempt to take down HYDRA, a group led by the Red Skull, which is making weapons that could turn the tide of World War II. The story was written by Marvel's Chris Gage, and is told through cut-scene cinematics that bookend each stage which feature art by Ron Lim and Christopher Sotomayor, and text blurbs at the beginning of each level within a stage. Unfortunately, the story just isn't very compelling, and it's easy to miss any subtlety that may be there.
The game is presented with HD graphics, and looks great. Captain America looks perfect, and the environments are well detailed. The HYDRA soldiers are a bit repetitive, but luckily Marvel wrote that into the comics a long time ago, so we can't really fault the game for that. The game is made up of three stages with eight levels each and along with collectables in each stage should offer hours of gaming. The collectables lead to unlockables like extra costumes and comic book covers.
It's also a bit annoying that the game doesn't save your sound preferences, so you have to lower the volume after each launch. And, even if you have the sound levels set to off, the sound will come on anyway during cut-scenes as you move from world to world, so be careful if you're playing in a quiet area.
The key of the game, as usually is the case with touch screen games, is all in the controls. The game uses gesture controls, which actually work fairly well most of the time. Swiping in a direction makes Cap auto-run in that direction. While running, Cap can slide, jump and attack. Early on, this seemed like it could get repetitive, but the game does well to add in extra moves like wall jumping, wall running, throwing Cap's shield, and attack combos. These extra moves and combos help keep the controls from getting too repetitive, but the controls aren't the most accurate.
Captain America is a really good game. The gesture controls work well enough most of the time, and are varied enough to keep the game from being too repetitive. The visuals are very nice, and the levels are easy to navigate. There aren't a lot of them right now, so this game easily makes our top 5 list for best platformers on Android.
Fair warning for EVO 3D users, there have been a number of users in the Market comments that say the game just doesn't work on that handset. The game worked well on the Nexus One we used for testing, mostly just issues with slow text scrolling. Although we did hit a couple crashes at the start to level 10.
It's definitely worth a try, and will normally cost $4.99. The game was supposed to jump back to $4.99 after opening weekend, but the Android Market is still listing the game for 99 cents, so grab it while you can.