Camera vs. Smartphone: Infographic shares the impact our smartphones have had on regular cameras
10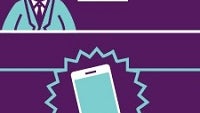 It should come as no surprise to you that increase smartphone sales are having a tragic effect on the sales of compact camera systems and DSLR cameras. For most folks, the built-in cameras on their smartphones are easier to use, it is easier to share the pictures, and having everything in one device is economical.
The gang at Treat, which sells customized greeting cards using your pictures to make them more personal and meaningful, put together an infographic showing the impact of pictures in our mobile society and economy.
So just how pervasive is all our picture taking in our daily lives? It is so frequent that no one notices (obviously), but the numbers and what they represent are remarkable anyway. The graphic starts with statistics we cover on a regular basis. Growth in Eastern Europe and Russia is strongest with the Asia and Pacific Rim is next in line. Latin America and Africa are two regions to keep an eye out for in the future.
With manufacturers making more and more affordable smartphones with integrated cameras, the production and sale of regular cameras is down over 40% across the board in all markets. Hardest hit are the compact camera systems, which have seen sales decline from 147 million units in 2012 to what is expected to be under 60 million in 2014.
Smartphone owners take pictures more often, but camera owners still take more overall photos, no doubt in part because "real" photographers still use "real" cameras and take dozens of pictures for the purposes of using only one. By 2022,
more than 7 trillion pictures
will be taken. Facebook is the big recipient of many of those pictures, with over 300 million photo uploads per day. Instagram takes in 40 million.
As for what everyone does with all their pictures, most people store them on their computer, but there are still about 17% who print them (you can guess that is the older demographic). Women are more likely than men to share their pictures via social media. It all comes down to the convenience people get with one device. More than half the folks in the UK use their smartphone as their "primary" gadget. When it is all said and done, smartphones are the most effective, economical and efficient personal communications device.
And finally, what photo-centric infographic would be complete without the acknowledgement of the smartphone with the big daddy camera? The
Nokia Lumia 1020
.
source:
Treat.com
Recommended Stories