Bugs crawl through Motorola DROID X after Froyo update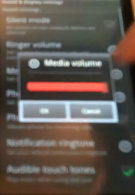 The Android 2.2 upgrade for the Motorola DROID X seems to have brought some unwanted bugs with the software. Since Froyo has been served to owners of the DROID X, there have been some complaints that the order of incoming and outgoing text messages has been changed. Instead of messages appearing in the order that they were sent and received with the newest message on top, messages are staying in the same spot they were at when they first appeared on the list. Another problem has to do with intermittent SMS notifications.
It appears that Motorola is now aware of the problem and a software upgrade will be needed to eliminate the bugs. No timeframe for this upgrade was mentioned in the Motorola Owners' Forum, where these bugs were first disclosed by DROID X owners.
Another problem that pre-dates the Froyo update is a low level of volume that some owners of the handset are complaining about. As we
reported
, this issue was supposed to be addressed by a software upgrade and speculation was that the Froyo download would take care of it. Unfortunately, the reports from DROID X users is that the volume remains at a low level for some models.
source:
MotorolaOwners'Forum