Boomerang now adds location awarness with a new update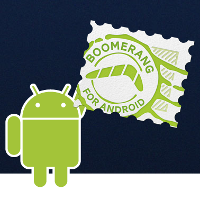 Boomerang for Android is an email productivity app for Gmail, Google Apps and Microsoft Exchange. With Boomerang on your phone or tablet, you can "snooze" an email and have it resent to you later at a specific time. This ensures that you always have the right email on your screen when you need it. You can even track responses to help you follow up on important communications. We first
brought this app to your attention
more than two years ago.
Adding location awareness to Boomerang means that you can arrange to have a certain email show up based on where you are. For example, let's say that you and your SO (significant other) have been sending sweet nothings via email all day. Perhaps it's your anniversary, or maybe you two are just sickingly sweet. Regardless, little heart emojis fill your inbox like ants inside an ant hill. But when you visit your client later that day, you need to make sure that his emailed proposal is right at your fingertips. With Boomerang, the client's email can be set to reappear right on top of your in-box, as soon as you visit his office. This way, it looks like you are right on top of things.
"Boomerang is focused on making email work for you – not the other way around. We designed the latest Android release to act as a personal assistant, allowing users to receive and respond to the emails they need, when and where they need them. Boomerang for Android helps make inbox zero possible whether you're at your desk or on the go, with an integrated web and mobile experience. You always have the right messages exactly when and where you want them."-Alex Moore, CEO, Baydin
Besides the new location awareness feature, Boomerang includes a widget for the home screen that will allow you to see new messages quickly, pain-free. Boomerang now supports German, French, Spanish, Portuguese, Japanese, and Korean and is optimized for tablets. Right now, Boomerang is a free download from the Google Play Store.
Install Boomerang on your Android device
source: Boomerang