Bloggers think Apple will announce redesigned iPad this month
27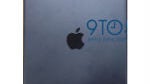 Usually, when we're coming up on a new Apple announcement, the rumor mill kicks into high gear, and you need a machete to get through all of the speculation. But, a new rumor is claiming that Apple wants to sneak a new iPad on us and announce a complete redesign to the tablet this month.
The strange thing about this rumor is the source of it. Basically, what happened was that a number of well-known Apple bloggers held a public discussion on social site Branch yesterday. The topic of the discussion started out on the recent report that Apple would begin producing the next
iPhone this quarter
. The general thought process of the discussion was that Apple won't wait until WWDC in June to make a new product announcement, and a couple reporters, including Matthew Panzarino from
The Next Web
, and Rene Ritchie of
iMore
said that they have sources saying there will be an iPad announcement coming this month.
The best we've seen so far about a new iPad are the supposed images of the rear of redesigned iPads that leaked back in January. And, we haven't heard anything about Apple booking any event space at the usual haunts.