BlackBerry's Chen: We're still the leader in enterprise
27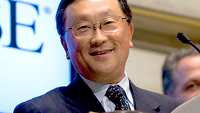 BlackBerry CEO John Chen wrote an editorial for CNBC on Monday, trying to explain that BlackBerry is stronger and in better shape than most believe. The executive says that the company "
is strong financially, technologically savvy and is well-positioned for the future."
Perhaps the most important sentence that Chen wrote, deals with BlackBerry's position in the business world and the security of the platform. He states that BlackBerry remains the leader in mobile-device management.
According to Chen, BlackBerryisthe only MDM provider that the DoD can use
.
All seven of the G7 governments are 'Berry users, and most companies in regulated industries still count on BlackBerry for secure communications.As for the future of the company, Chen points out that 40 million iOS and Android users have signed up for BBM, which he calls "
the most secure mobile-messaging service
," and he says that BlackBerry plans on monetizing BBMto bring in revenue
.
The executive adds that QNX is being used by automobile manufacturers as a leading M2M technology.
"When it comes to enterprise, we're still the leader. Don't be fooled by the competition's rhetoric claiming to be more secure or having more experience than BlackBerry. With a global enterprise customer base exceeding 80,000, we have three times the number of customers compared to Good, AirWatch and MobileIron combined. This makes BlackBerry the leader in mobile-device management."-John Chen, CEO, BlackBerry
Chen also hints at some new capabilities for the company that will be announced at CES next month
,
along with some cloud services. The new BlackBerry CEO says that the company has a strong cash position with $3 billion on the balance sheet. He says, "
The journey has just begun
." Let's hope that this time, the journey leads to a better ending.
source:
CNBC
via
MobileSyrup