BlackBerry Z30 hands-on
13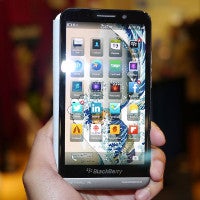 BlackBerry has been relatively quiet, right? Here in the US, BlackBerry smartphones like the Z10 and Q10 have been making the rounds for some time, giving consumers that brand spanking new BlackBerry 10 experience. And then after all of that hoopla, some markets got in with the entry-level BlackBerry Q5. Considering that we've seen several high-end, ginormous sized smartphones of late, such as the Samsung Galaxy Note 3, Sony Xperia Z1, and the LG G2, it's somewhat refreshing that BlackBerry has something in the pipelines that's taking form in the BlackBerry Z30.
Wow! It's about time that we're seeing a giant-sized smartphone from BlackBerry's camp. Briefly holding and checking out the handset, we have to admit that it employs the same design language currently found in BlackBerry's stable of handsets. Essentially, it reminds us of a stretched out version of the BlackBerry Z10, but it seems as though it's a smidgen thinner. Still, it's a wide handset that requires a fair amount of stretching with our hand to grasp it properly, well, that's unless you have really large hands to begin with. We can't complain about its look and feel, seeing that it has a pleasant contrasting appearance with its black front casing with a silver accented lip. In the rear, however, it's sporting a flip cover of some kind – so we're unable to see what the rear casing looks like.
Catching our attention even more than the design is the handset's display, which is a 5-inch 720p AMOLED display. At first glance, we don't believe it's an AMOLED panel, mainly because its color reproduction doesn't have the same distinctive over-saturated tones that are prominent with the display technology. Instead, it looks like it's a bit more subtle, which we find to be less straining to the eyes under lower lighting situations at full brightness. As always, viewing angles are rock steady with this one, as it doesn't distort much at wide angles. In this day and age, 720p resolution on a 5-inch display might seem dated, but frankly, it's hardly noticeable from a normal viewing distance. In fact, our eyes tell us right away that it's a sharp looking one.
Unfortunately, we're unable to go through the BlackBerry 10.2 experience – so we can't say how the handset performs with various functions. Like what we've seen already with previous BlackBerry 10 smartphones, we're fairly confident that this will perform handsomely. Thankfully for the Waterloo based company, this is shaping up to be their driver for the upcoming and crucial holiday season. Who knows whether it'll have the star power to match the competition, but this is basically THE BlackBerry smartphone to check out for the next few months – unless something else magically comes along. No doubt, hardcore BlackBerry users will take notice of this beauty, but in a world of super spec'd smartphones, like the Galaxy Note 3, Xperia X1, and LG G2, the BlackBerry Z30 might not have enough gas in the tank to keep up with the competition. Maybe the price will be just right to warrant a purchase?
BlackBerry Z30 hands-on photos