BlackBerry Z3 touches down in the Philippines
39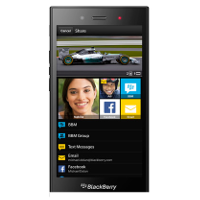 The
BlackBerry Z3
continues its travels around the emerging markets, as the phone is available starting today in the Philippines. Authorized retailers are selling the device, the first to tumble down the assembly lines at Foxconn as part of a 5 year pact with BlackBerry. The contract manufacturer designs the phone, builds and stores it, and BlackBerry contributes the OS and marketing. Both split the profit.
The BlackBerry Z3 is aimed at emerging markets. The entry-level phone offers a 5 inch screen with resolution of 540 x 960, which works out to a pixel density of 220ppi. A dual-core 1.2GHz Snapdragon 400 CPU drives the handset, which has 1.5GHz of RAM on board. 8GB of native storage comes with the phone, although those needing additional memory can employ the 32GB capacity microSD slot. There is a 5MP camera on back, and a 1.1MP snapper on front. A 2500mAh battery should keep you running all day. The BlackBerry Z3 costs 10,990 pesos, or about $250 USD.
While Foxconn churns out these entry-level devices, BlackBerry is designing its high-end models in-house. That move could pay off for BlackBerry as we could soon see the release of the intriguing BlackBerry Passport with its 4.5 inch 1440 x 1440 screen, and a new unique QWERTY keyboard. The latter features contextually aware virtual keys. For those who need a more "old-school" approach, the BlackBerry Classic will feature the Bold-like QWERTY keyboard along with a trackpad and function keys. These models will be found in developed markets including the U.S., Canada and the U.K.
source:
BerryReview