BlackBerry PlayBook Web Browsing Demonstration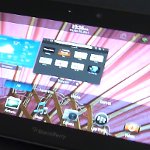 After quickly getting a feel for its shiny new
QNX based platform
, we just had to hone in on one key aspect of the BlackBerry PlayBook that's surely going to be one driving force for anyone looking to pick one up – and that's none other than the
web browser
.
Continuing to rely on a
Webkit based browser
, there's a sense of excitement that's bestowed upon as we quickly took the tablet on a test drive to check out some of our favorite web sites. Impressively, it's able to load up complex sites like ours in no time and all, and even more surprising, it doesn't stutter in the face of Flash content. From embedded YouTube videos to Flash powered ads, we're amazed that the PlayBook is very well versed in accurately providing a serious web browsing experience. Compared to some other tablets out there, we're still able to fluidly kinetic scroll without hiccups while Flash content is playing.
Of course, you've got standard features like multi-touch pinch zooming, double tapping to re-size text, and the ability to open links in new tabs by performing a long press. Although it exhibits a satisfying experience from the onset, there are still some instances of it taking some time to render things on the fly – but it's not bad at all. As it stands right now, it's just nice to see a tablet that superbly imitates the full desktop web browsing experience without compromising on certain aspects.