BlackBerry Passport receives its GCF certification
10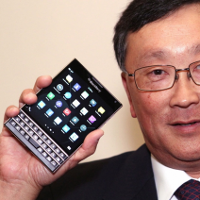 The BlackBerry Passport moved another step closer to a September launch with its GCF Certification. This follows
the recent visit to the FCC that the Passport made
. The GCF Certification is just another bump on the road for BlackBerry's upcoming flagship model With a 1440 x 1440 resolution on its 4.5 inch screen, Passport users are sure to enjoy a spectacular screen. Powered by a quad-core Snapdragon 800 and with 3GB of RAM, this will be the most powerful 'Berry ever. The 3450 mAh battery makes sure that the device runs all day long without having to be recharged. BlackBerry 10.3 will be pre-installed out of the box.
A Physical QWERTY keyboard combines with virtual keys that appear on a contextual basis. In other words, if you're browsing the internet, you will see symbols and punctuation that you would normally use while browsing the web. That means that you will have the option of typing a colon (:) or backslash (/) among other choices. Let's say you are typing an email. You will see the "at sign" (@) appear among the virtual keys, along with the .com TLD.
The BlackBerry Passport has caught a pretty good buzz amongst both BlackBerry and non BlackBerry users. While many are already calling it a great business device, the Passport will no doubt find favor among consumer users as well. Those interested in the device
can pre-register with BlackBerry
to be notified when the phone is ready to be pre-ordered.

source:
@GCF_Certified
via
Crackberry