BlackBerry Key 2 LE arrives to Verizon's business customers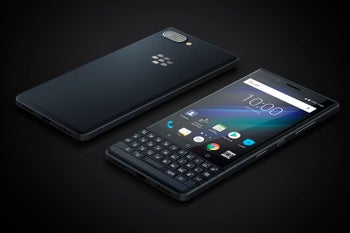 The BlackBerry Key 2 LE, an affordable phone with the signature BlackBerry full QWERTY keyboard and a focus on security, is coming to Verizon Wireless in the United States as part of the carrier's business customers offerings.
The Key 2 LE is the
"lite"
edition of the flagship Key 2, and it's literally a lightweight, plastic phone with a Snapdragon 6xx series chip and an affordable price tag. Verizon business customers will be able to get the more serious-looking slate color (aka gray) version of the phone. The phone will be available on Verizon's business plans within the next few weeks.
An affordable and secure phone, the BlackBerry Key 2 LE comes with a full QWERTY keyboard
The biggest appeal of such a device is the keyboard of course, as well as the rich customization options. With a dedicated Speed Key, here you can quickly launch an app, plus you can set each of the physical keyboard keys to act as a shortcut to a function on the phone, so you don't need to search through the app drawer for apps, which is neat.
But how does the Key 2 LE compare to the flagship Key 2?
Let's take a quick look at the specs for the curious ones:
Specs
BlackBerry Key2 LE
BlackBerry Key2
Platform
Android 8.1 Oreo, will be updated to Android 9 Pie
Android 8.1 Oreo
Screen
4.5-inch LCD
1080 x 1620 pixels
4.5-inch LCD
1080 x 1620 pixels
Chip
Snapdragon 636
Snapdragon 660
RAM
4GB
6GB
Storage
64GB
+ microSD card support
64GB / 128GB
+ microSD card support
Cameras
13MP + 5MP (depth info, portrait mode)
12MP + 12MP (tele camera, portrait mode), 4K video
Battery
3,000 mAh
3,500 mAh
Extras
Dual SIM
Headphone jack
BlackBerry Security & Privacy features
Convenience Key
Fingerprint in space bar key
Capacitive keyboard with gestures
Headphone jack
BlackBerry Security & Privacy features
Convenience Key
Fingerprint in space bar key
The sore point of the Key 2 LE is the quite dated Android
8.1
Oreo version that you are getting, but BlackBerry has previously promised the device will be updated to Android 9 Pie, so you have that.
When launching the Ket 2 LE, BlackBerry also stressed that it was one of the first companies to partner with Google for enterprise security features support with Android, and with the
Key2 LE
the company has now embedded important information about the latest security patch and the ability to do a quick security check (via DTEK Security) within easy reach. You also have the useful Locker feature that stores content and apps, and makes them private. It also allows you to hide certain apps behind the fingerprint scanner, so nobody else can look at them. Additionally, you get the Dual Apps feature on board, so that you can run two instances of an app, a useful trick if youu are juggling between personal and corporate accounts. At start, it will support apps like Whatsapp, Facebook Messenger, Instagram and a few others.
BLACKBERRYKEY2LE COMING SOON TO VERIZON BUSINESS CUSTOMERS

LAS VEGAS–January 8, 2019–In the coming weeks, Verizon Enterprise and Small Business customers will be able to purchase the productivity-ready BlackBerry KEY2 LE.With its purposeful design built for the modern communicator, the Slate variant of KEY2 LE will offer Dual-SIM support, 4GB of memory, and 64GB of internal storage.It also comes with the innovative Speed Key for a more customized universal shortcut experienceand includes support for popular features like the GoogleAssistant, GoogleLensand Google Pay.

"In today's business world, whether you're a large enterprise or a small business, you need tools for your team that not only put productivity first, but also help keep your organization's security and privacy at the core of everything it does," said Francois Mahieu,General Manager of BlackBerry Mobile for TCL Communication."This is why we're so proud to partner with Verizon to offer the BlackBerry KEY2 LE to their business customers. They can buy with confidence not only knowing they're getting a genuine BlackBerry experience, but also knowing they're getting a modern smartphone built for productivity, reliability and security."

"We are excited to add the BlackBerry KEY2 LE to Verizon's portfolio of leading-edge smartphones for our business customers," said James Hammond, Director of Business Devices at Verizon. "With BlackBerry's decades of experience securing the mobile workforce running on America's largest and most reliable 4G LTE network, we continue to offer an industry-leading lineup of solutions needed by businesses."

PURPOSEFUL DESIGN FOR THE MODERN COMMUNICATOR
Capturing the balance between iconic BlackBerry design andmodern elements,theBlackBerry KEY2 LEfeatures a lightweight polycarbonate frameand a newly designed soft textured back that provides better in-hand grip to prevent drops. Designed for accuracy and precision, the physical keyboard includes the Speed Key that enablesshortcut access to a number of functions on your device at any time,without havingto return to the home screen or search in an app folder to access the apps, contacts and functions you use and communicate with most.The Speed Key is complemented by52 customizable shortcuts,so you can program each key to instantly bringup the contacts and apps you use most.

ENHANCED PRIVACY YOU CONTROL
Now you can take personal control of your smartphone privacy with features like Locker that allow you to manage what information is shared in the cloud,like your photos and documents. Locker provides a personal space on the device where you can store apps you want to keep private along with sensitive documents and photos. Firefox Focus, the privacy browser by Mozilla,is also included so you can avoid trackers and automatically delete your browsing session when the app is closed. The BlackBerry KEY2 LEalso includes the refreshed DTEK by BlackBerry application that brings new scanning features for proactive security checks to easily identify and mitigate potential security risks, such as unwanted data access by a downloaded application on your smartphone. And a commitment to monthly Android security updates means you'll always be protected from the latest threats.

PRODUCTIVITY YOU CAN ONLY FIND IN A BLACKBERRY SMARTPHONE
With the BlackBerry KEY2 LE, you have all the featuresyou need to manage your work, travel, and personal life on the go. This includes support for dual personal accounts and business ready software that makes it easier to manage all aspects of your life.Dual account managementisbuilt in to enable you to separately manage both personal and professional social media profiles on apps like Facebookand Instagram, and on the dual SIM variant of the BlackBerry KEY2 LE, you can also have dual WhatsAppand other accounts that require unique numbers. It also comes loaded with BlackBerryHub which brings all your messages into one consolidated place –including emails, texts and messages from almost any social media account,including WhatsApp.

POWER TO GET YOU THROUGH THE DAY
Powered by aQualcomm Snapdragonprocessor and an efficient battery that offers up to 22 hours of mixed use, BlackBerry KEY2 LEcan get you through the busiest of days and often into the next day. In addition, itfeatures Qualcomm Quick Charge3.0, enabling up to a 50 percent charge in about 36 minutes –enough power to get you through a normal work day. Italso comeswitha Boost mode charging and contextual battery reminder which will learn from your daily charging habits and calendar appointments to recommend when to charge so you have the battery power you need when you need it most.